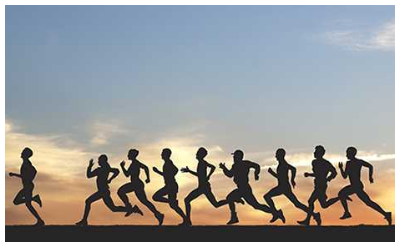 Jogging is effective in increasing human lifespan, and decreasing the effects of aging, with benefits for the cardiovascular system. Jogging is useful for fighting obesity and staying healthy
While jogging on a treadmill will provide health benefits such as cancer prevention, and aid in weight loss, a study published in BMC Public Health reports that jogging outdoors can have the additional benefits of increased energy and concentration. Jogging outdoors is a better way to improve energy levels and advance mood than using a treadmill at the gym.
Jogging also prevents muscle and bone damage that often occurs with age, improves heart performance and blood circulation and assists in preserving a balanced weight gain.
Early morning jogging improves concentration, health along with infusion of freshness that keeps the students healthy and fit. This kind of recreation helps in improving the all around personality of the students.
Joggers Club Activities