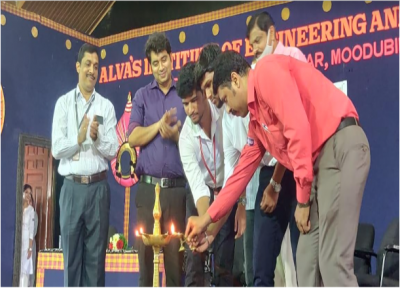 WarTecX-2021 was an inter-branch technical fest conducted by Tech-Club in association with the CSI forum of the Computer Science Department, AIET. WarTecX-2021 gathered all the curious and engineering minds of different branches of AIET.
WarTecX-2021 was conducted on 8th & 9th January 2021 at AIET main campus.
The function was inaugurated by Mr. Srivatsa Hullahalli Nagarajaiah, Director-Recruitment TEK System Global Services, Bangalore and with the presence of Mr. Vivek Alva, Dr. Peter Fernandes, Dr. Manjunath Kotari, Mr. Hemanth Kumar N P, CSI Student Chapter members and Tech-Club Event Co-ordinators.
There were 10 events which was a collaboration of both Technical and Semi-Technical Events. Around 485 students from AIET took part in various events with a Registration fee of Rs.30
The Event lists and Winners of WarTec-X 2021:
SL. NO

EVENT LIST

EVENT DESCRIPTION
NO. OF PARTICIPANTS
WINNERS

1

WEB-X

TO DEVELOP A WEBSITE

65-TEAMS

1ST– AIET(CSE)

2ND – AIET(CSE)

2

MOBI-WORLD

MOBILE APP DEVELOPMENT USING ANDROID OR IOS PLATFORM

16 TEAMS

1ST– AIET(CSE)

3

HACK-IT- DEMO

ETHICAL HACKING

20 TEAMS

1ST – AIET(EC)

4

MECH-3D

MECHNICAL 3D DESIGNING

10 TEAMS

1ST –AIET(ME)

5

ARCH-X

STRUCTURAL DESIGNING

15 TEAMS

1ST– AIET(CV)

6

PCB- DESIGNING

PCB-DESIGNING FOR

EC- STUDENTS

20 TEAMS

1ST-AIET(EC)

2ND -AIET(EC)

7

PHOTOGRAPHY

PHOTOGRAPHY WITH EDITING

80

PARTICIPANTS

1ST– AIET(IS)

2ND-AIET(AI- ML)

8

VIDEOGRAPHY

VIDEOGRAPHY WITH EDITING

23

PARTICIPANTS

1ST– AIET(IS)

9

MOCK- INTERVIEW

SPECIAL EVENT FOR

FIRST YEAR STUDENTS

53 TEAMS

1ST– AIET(CSE)

2ND– AIET(C-2)

10

HACKATHON

SOLVING THE REAL WORLD PROBLEM

32 TEAMS

1ST- AIET(CSE& IS)
The organizing of WarTec-X 2021 bought a very good bonding among all the four batches of the Computer Science branch. The event was a huge success in terms of participation from AIET,In coming years many more technical and semi-technical events can be added up. Many students from the 1st, 2nd, 3rd and 4th years took the initiative to conduct the particular event with the good participation spirit and with the support of the Management, HOD and Faculties of CSE, AIET.