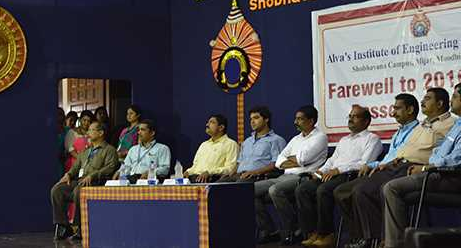 An evening dedicated to rejuvenate all the memories of college life. A light-hearted event, which would flood the memories from the past and allow you to relive them all over again and much more to make the evening worth cherishing. Farewell is used to express good wishes on parting. The colorful memories of the days spent by the students were gathered to share again before they cast away from the campus of Alva's Institute of Engineering and Technology to start a promising career.
AIET organized it's farewell function on May 18th,2016 for the 5th outgoing batch of B.E, M.Tech, MBA. 564 outgoing students participated in the event. The function was inaugurated by Prof. P L Dharma, Professor in Political science, Mangalore University along with our principal Dr. Peter Fernandes. Followed by this, a pledge was taken by all the final year students of BE, M.Tech & MBA as a promise to execute their duties with courage, compassion and determination. The best projects of the final year students were rewarded by the institution. Students shared their experiences spent in the campus and also gave a quick review of the memories they cherish from the campus. As a token of remembrance, a memento was also distributed to all the students.
The Parents, Invitees & staffs of AIET witnessed this momentous occasion, The programme ended up with scrumptious dinner.