Introduction
Activities
Report
Contact
Introduction
ROSTRUM – The Speakers' Club at Alva's is a platform for students to thought-process in various socio-cultural, political issues for over a decade. Rostrum brings in about 15 speakers a year and conducts activities like debate, panel discussion, campus parliament and many more.
Rostrum aims at preparing students for professional world, giving much impetus on academic and corporate aspects. With this thought in mind, Alva's Education Foundation has provided a platform for students as an apt avenue for public speaking. The objective of this forum is to provide opportunities for its members to listen to great speakers; clarify their thoughts and dispel the doubts directly from the experts on prevalent social, economic, political topics. Our club has around 3200 students from various domains such as Engineering, Medical, Management, Arts, Commerce and Journalism degrees.
Activities
The following activities are the flagship events under Rostrum.
Guest Talks
Rostrum conducts around 15 guest talks in a year. The speakers' are eminent personalities with expertise knowledge in their domain. The student governing board discusses and finalizes on topics which they feel is apt for the student members. The talk is followed by a Q/A session for 1 hour where students can dispel their doubts and get it clarified from the experts.
Some of the speakers of international repute hosted by Rostrum are
1. Guru Gaur Gopal Das, International Life Coach
The guest talk by Rostrum-the speaker's club hosted Guru Gaur Gopal Das, International Life Coach at Nudisiri Vedike, Vidyagiri Campus with over 4000+ audience. They include, students from across Alva's Education Foundation who purchased the book 'Life's Amazing Secrets' and also invited across Moodbidri and Mangaluru.
2. Dr. Ravi N Margasahayam, International Space Station Safety (Retd.), NASA
Dr. Ravi N Margasahaya spoke about 'Creating Masters: Shaping today's youth into tomorrow's leaders' at AIET Auditorium. He quoted that 'Creating a master is something that cannot be taught, it is extraordinary, transformative and profound journey of life'.
3. Mr. Mani Shankar Aiyer, Former Union Minister, INC
The guest talk on "Nehruvian Legacies and its discontents" by Mr. Mani Shankar Aiyer was organized by Rostrum-the speaker's club. The session started by Mr. Mani Shankar Aiyer by telling the how the INC was started by the legendary leadership of Pandit Jawaharlal Nehru.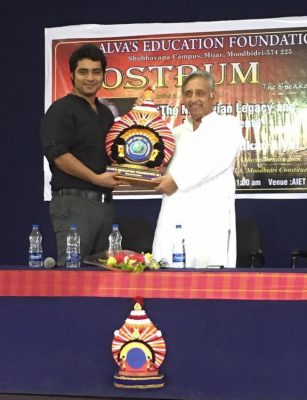 4. Padma Shri Dr. Dinesh Singh, Ex-VC, Delhi University
The guest talk by Padmashri Dr. Dinesh Singh on 'Redefining education to enable the young' was hosted by Rostrum- The speakers' club on 22nd may,2018 at AIET Auditorium, AIET. He addressed the students of AIET, MBA on how transformation in education in the youth is the need of the hour. He took up his life lessons and shared his experience on how as an individual he has contributed to the field of education.
5. Padmashri Dr. A S Kiran Kumar, Ex-Chairman, ISRO
Chairman of the Space Commission A.S. Kiran Kumar said the ISRO has been a champion in demonstrating the use of space technology for societal good. Space technology, as the powerful enabler, provides a variety of vital inputs for holistic and rapid development of the country. ISRO has launched many satellites since the space programme was set up in 1969 for various scientific and technological applications.
6. Justice Santosh Hegde, Former Lokayukta, Karnataka
Hon'ble Justice N. Santosh Hegde spoke about various thing related to the topic i.e. the corruption in the country, mass communication (news channels) leaving their work ethics, media channel being tilted towards the political power, improper measurements taken by the government in administration, roads are not constructed even after the permission is granted, effect of social media in the public and youths, all this thing are making humans to forget humanism and morality in them.
7. Dr Subramaniam Swamy, Former Harvard Professor and Union Minister
Speaking on national growth, Dr Subramaniam Swamy said, "National growth takes place when the quality of living of the people goes up. The western world thinks that progress lies in material prosperity. The Hindu thinks material progress should be harmonized with spiritual values in order to be happy. More material prosperity leads to greed.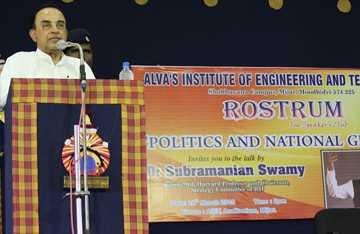 8. Amb. Kezaala Mohammad Baswari B,Deputy High Commissioner,Uganda High Commission
Speaking on leadership His Excellency said "To be a Leader is no person's hierarchy, the one who deserves it can grab it". The relation between Uganda and India was also put forward to students stating that the doors of Uganda are always open for their educational and entrepreneurial needs. His Excellency spoke also about Mahatma Gandhi and his contribution to Indian independence and his roles for the wellbeing of Uganda in the early British times.
9. Mr. Daya Nayak, Police Officer, Govt of Maharastra
Mr. Daya Nayak spoke about 'Crime, Youth and Society' to the student members of Rostrum at AIET Auditorium. He said moral policing will not make the system proper, instead citizens supporting police in maintaining and following law will definitely make the difference.
Panel Discussion
Panel Discussion is an event where the students though process on topics on current affairs, conservative and reserved topics like Nationalism, Reservations, Demonetization, Triple talaq and many more. Domain Experts are also brought to discussions who throw light on facts and figures on those topics. Rostrum has conducted closed room panel discussion and events open panel discussions.
Debate Competition
Rostrum in association with Hindu Group conducts state level debate competition every year. Students from various streams and courses from across the state take part in this competition. Every year the event has set a new benchmark in terms of the quality of the debate. 580 students across the state participated last year. Topics like Swacch Bharat Mission, Farm Loan Waiver , Minimum Educational Qualification for Politicians, Credibility of Media, Socio-Economic value in Indian Cinemas were debated on by finalists last year.
Report
Contact