Introduction To Algorithms - 28th September, 2021
RESOURCE PERSON: Prof. (Dr.). P Nagabhushan, Director, IIIT Alahabad
As a part of activities conducted by Algoris Club, Prof. (Dr.) P Nagabhushan, Director, IIIT Alahabad gave a talk on "INTRODUCTION TO ALGORITHMS " on 28th Sep, 2021.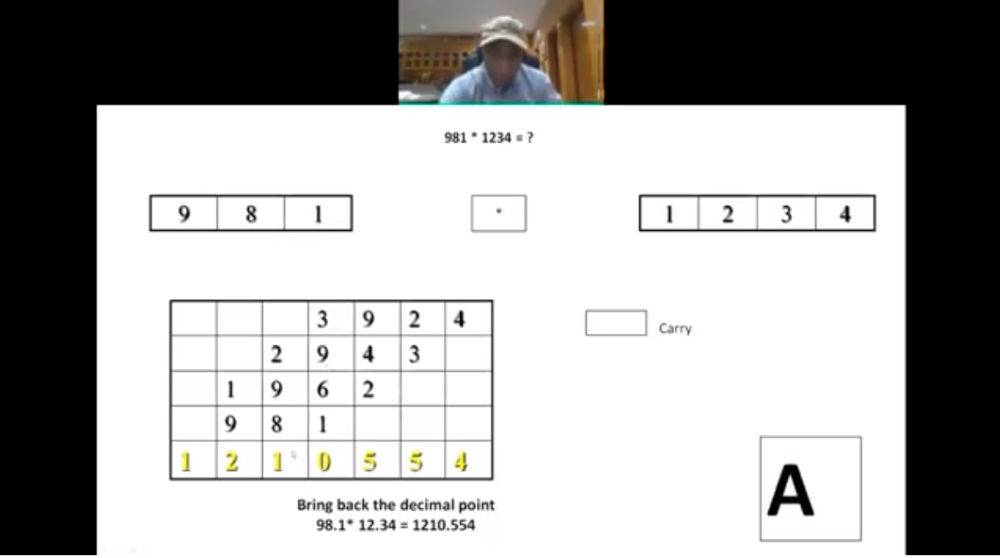 Professor explained the various concepts of Computer Algorithms. Students were introduced to Algorithm concepts. All the students learnt about Algorithm to add two numbers, Algorithm to find the largest among three numbers, Algorithm to find all the roots of the quadratic equation, Algorithm to find the factorial, Algorithm to check prime number, Algorithm of Fibonacci series. Further, students were made hands on session, by getting familiar with basic algorithms in computer science.
Finally, HOD of CSE gave vote of thanks to resource speaker and winded up the session. About 100 students were attended the talk.
ATTENDED STUDENTS LIST
| | |
| --- | --- |
| Sl.No | Name |
| | Athul Raj |
| | BH Rashmi |
| | Bhagyashree bajantri |
| | Bhoomika m |
| | Chaitra P Shetty |
| | Chandan Kumar VS |
| | Chandan kumar M G |
| | chetan m wali |
| | Chinmaya Bhat K K |
| | Chinmaya Dayananda Kamath |
| | Gowda vijay puttaraju |
| | Indraja R |
| | Jayanth G |
| | K.Vinay |
| | Meghana S |
| | Muhammad saqib Hassan |
| | Narendra Mutalik |
| | Natasha Saldanha |
| | Neha |
| | Nichenametla Bhagya Sree |
| | Nischal M R |
| | Pavan kumar |
| | Pooja Rajesh Talekar |
| | Karunakar |
| | Prajna S P |
| | Sameer Shaik |
| | Sanjay.S |
| | Shameer abdul kader |
| | Shamjetshabam Noren Singh |
| | Shetty ashwitha shekar |
| | Shetty Sushmita rajeeva |
| | Shifali S Rao |
| | Shravana S |
| | Shravya shetty |
| | Shreyas H |
| | Shreyas M |
| | Shrunga G S |
| | Sindhu R |
| | Sneha U B |
| | Soumya Ashok Malakannavar |
| | Soundarya S Siddanagoudra |
| | Srinidhi M |
| | Sudarshan ulhas baadkar |
| | Swasthik |
| | Tulasi.H.Uchila |
| | Upasana Shenoy R U |
| | V.Jahanavi |
| | Vaibhav Shridhar Soorinje |
| | Vaishanavi T |
| | Vamsha |
| | Vikas T.N |
| | Vinay C T |
| | Vinayak ugargol |
| | Vishesh r shetty |
| | Yuvraj J R |
| | Shamjetshabam Noren Singh |
| | Shetty ashwitha shekar |
| | Shetty Sushmita rajeeva |
| | Shifali S Rao |
| | Shravana S |
| | Shravya shetty |
| | Shreyas H |
| | Shreyas M |
| | Shrunga G S |
| | Sindhu R |
| | Sneha U B |
| | Soumya Ashok Malakannavar |
| | Soundarya S Siddanagoudra |
| | Srinidhi M |
| | Sudarshan ulhas baadkar |
| | Swasthik |
| | Tulasi.H.Uchila |
| | Upasana Shenoy R U |
| | V.Jahanavi |
| | Vaibhav Shridhar Soorinje |
| | Vaishanavi T |
| | Vamsha |
| | Vikas T.N |
| | Vinay C T |
| | Vinayak ugargol |
| | Vishesh r shetty |
| | Yuvraj J R |
| | Aishwarya Dawaleshwar |
| | Amrutha Heggadthy |
| | Gangavva G Kudarikannur |
| | Habeeba |
| | Rahul Vernekar |
| | Rajesh C C |
| | BH Rashmi |
| | Bhagyashree bajantri |
| | Bhoomika m |
| | Chaitra P Shetty |
| | Chandan Kumar VS |
| | Chandan kumar M G |
| | chetan m wali |
| | Chinmaya Bhat K K |
| | Chinmaya Dayananda Kamath |
| | Darshan Naik M.G. |
| | Darshan s |
| | Deesha D Shenoy |