Sports Activities
Infrastructure
Incentives
Reports
Contact
Sports Activities
| | | | | | |
| --- | --- | --- | --- | --- | --- |
| ACHIVEMENTS | 2019-20 | 2018-19 | 2017-18 | 2016-17 | 2015-16 |
| WINNERS ZONE ,INTERZONE | 01 | 11 | 11 | 11 | 06 |
| RUNNERS ZONE ,INTERZONE | 04 | 02 | 03 | 02 |   |
| THIRD PLACE ZONE ,INTERZONE | 01 |   | 01 | 01 |   |
| FOURTH PLACE ZONE ,INTERZONE |   | 02 |   |   |   |
| GOLD MEDAL | 07 | 11 | 10 |   |   |
| SILVER MEDAL | 06 | 07 | 05 |   |   |
| BRONZE MEDAL | 12 | 10 | 09 |   |   |
| ALL INDIA REPRESENT | 12 | 17 | 13 | 07 | 06 |
| ALL INDIA MEDALIST |   |   | 01 |   | 01 |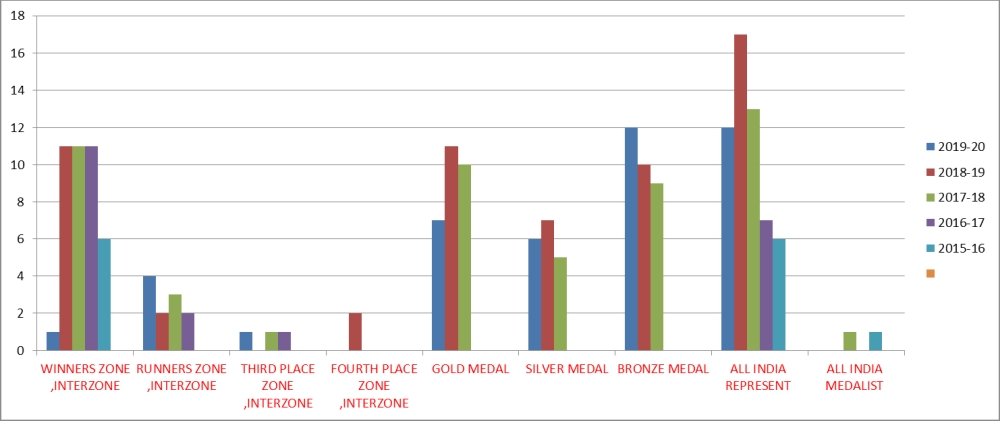 | | | | | | |
| --- | --- | --- | --- | --- | --- |
| EVENTS | 2019-20 | 2018-19 | 2017-18 | 2016-17 | 2015-16 |
| ATHLETICS | RUNNERS | WINNERS | RUNNERS | RUNNERS | WINNERS |
| KHO-KHO(M) | WINNERS(Z) | WINNERS(Z) | WINNERS(Z) | WINNERS(Z) | WINNERS(Z) |
| KHO-KHO(W) | ******** | WINNERS | WINNERS | WINNERS | WINNERS |
| KABADDI(M) | ******** | RUNNERS(Z) | WINNERS(Z) | WINNERS | ******** |
| KABADDI(W) | ******** | WINNERS | WINNERS | WINNERS | ******** |
| BALL BADMINTON(M) | ******** | WINNERS | WINNERS | WINNERS | ******** |
| BALL BADMINTON(W) | ******** | WINNERS | WINNERS | WINNERS | WINNERS |
| BADMINTON(W) | RUNNERS(Z) | ******** | WINNERS(Z) | ******** | ******** |
| VOLLEYBALL(M) | ******** | RUNNERS(Z) | WINNERS | RUNNERS(Z) | WINNERS |
| WEIGHT LIFTING | THIRD PLACE | WINNERS | ******** | ******** | ******** |
| CROSS COUNTRY(M) | RUNNERS | WINNERS | WINNERS | ******** | ******** |
| CROSS COUNTRY(W) | RUNNERS | RUNNERS | WINNERS | WINNERS | WINNERS |
---
AIET Received RS. 1 Lakh By VTU, Belagavi For Outstanding Performance In Sports And Cultural excellence During The Academic Year 2018-19 On The 'VTU Achievers DAY'.
Principal Dr. Peter Fernandes receiving the certificate and the Rs.One lakh cash prize for AIET being in the TOP SIX COLLEGES IN SPORTS AND ATHLETICS UNDER VTU. With him are Mr. Bharathlal Meena-Chief Secretary Dept. of Higher Education, Mr. Bhaskar Rao – DIG East Zone, Dr. Maheshappa – Vice-Chancellor VTU and Dr. Prakash – Registrar VTU.
---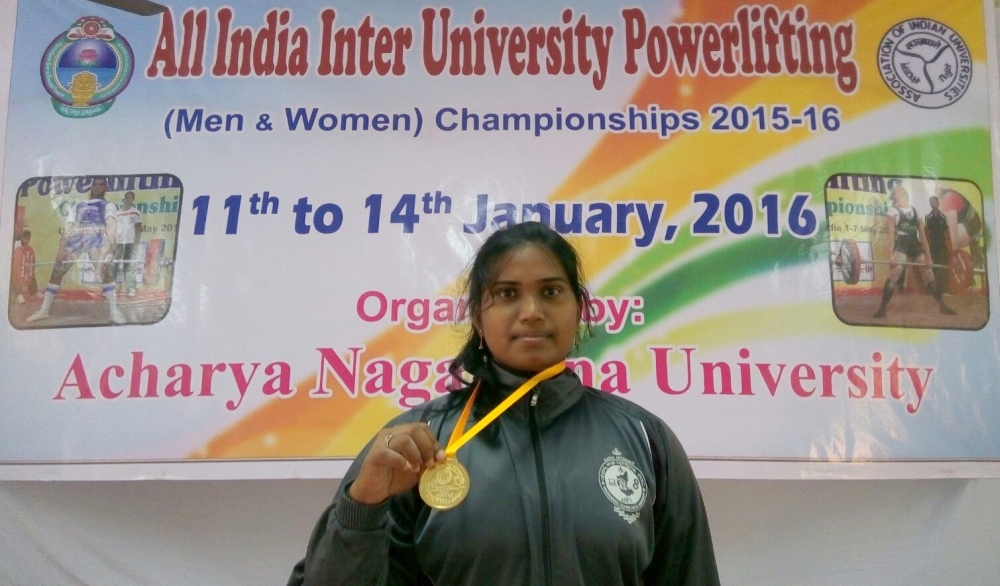 ---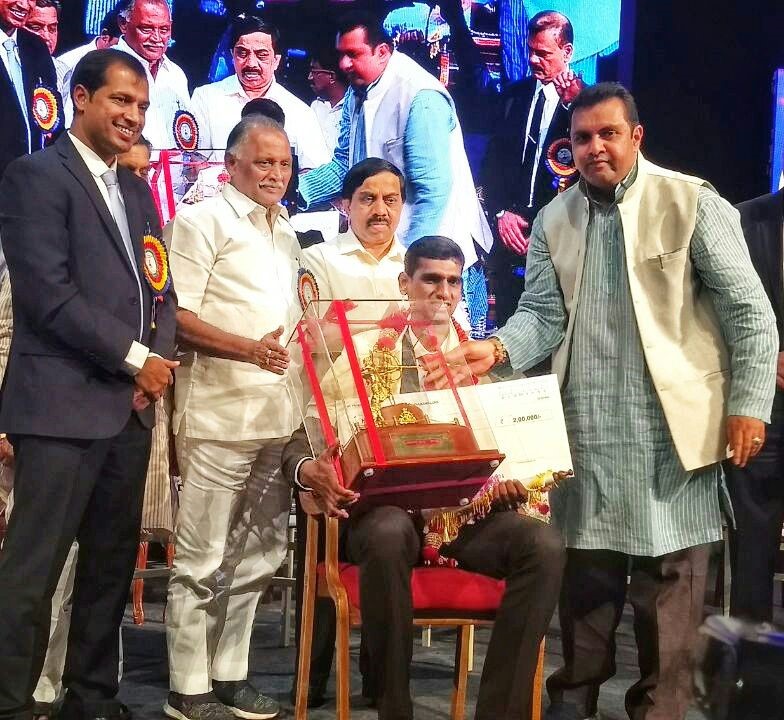 ---
Infrastructure
AIET has the best sports infrastructure for the development of sports talent in India.  This has made AIET as force to reckon with in the sports across all events.
Indoor facilities:
Multi gymnasium
Stations to practice weight lifting, power lifting and best physique
Table tennis
Carom and chess boards
Outdoor facilities:
Standard athletic track of 400 mts.
Throws & jumps pavilion
Fitness centre
Volley ball courts
Hand ball court
Foot ball field
Kabaddi court
Kho kho court
Throw ball court
Incentives
Incentives to Outstanding Sportspersons:
Sports adoption entails free boarding, lodging, medical facility, sports kit and standard equipment to sportspersons who have qualified in the VTU Inter-Collegiate competitions.
Special arrangement of internal exams for sportspersons who have missed exams on account of participation in tournaments.
Track suits presented to sportspersons, who have secured first and second position in VTU and other important competitions.
Felicitations to the winners at the College Day Celebrations such as award of individual Championships to athletes, Inter-University participants/medal winners, VTU record holders and the best outgoing sportsperson in each event.
Free medical aid, ultra sound and physiotherapy to injured or unwell sportspersons.
Invite outside coaches/event specialists for training/coaching in volley ball, wrestling, kabaddi, etc.
Reports
2019-20
2018-19
2017-18
2016-17
2015-16
2014-15
2013-14
2019-20
ATHLETICS TEAM OVERALL RUNNER S IN VTU INTERZONE CHAMPIONSHIP
WEIGHT LIFTING MEN TEAM SECOND RUNNERS IN VTU INTERZONE CHAMPIONSHIP
KHO-KHO MEN TEAM MANGALORE ZONE WINNERS & INTERZONE SECOND RUNNERS IN VTU CHAMPION SHIP
CROSS COUNTRY MEN AND WOMEN TEAM RUNNERS IN VTU CHAMPIONSHIP
BADMINTON WOMENS TEAM MANGALORE ZONE RUNNERS IN VTU CHAMPIONSHIP
2018-19
2017-18
2016-17
2015-16
2014-15
2013-14
Contact