NCC Air Wing
NCC Army Wing
NCC Air Wing
Overview
Aims
Objectives
Incentives
Advantages of Being a Cadet
Reports
Photos
Contact
Overview
Alva's Institute Of Engineering & Technology (AIET) is a premier Engineering Institute of Alva's Education Foundation established in the year 2008. AIET is strategically located adjacent to Moodbidri -Mangalore National Highway, which is 24 Kms from Mangalore International Airport.
It has a lush green campus spread over 30 acres; a part of ALVA'S-SHOBHAVANA, 144 acres spread on a famous herbal garden with more than two thousand variety of herbal plants.
Air Wing NCC (Flt-B) at Alva's Institute of Engineering & Technology is affiliated to No. 06 Kar Air Sqn NCC, Mangalore in the year 2015. Flt – B have authorized strength of 100 cadets. 
The Flt-B headed by Fg Offr Parveez Shariff B G under the Commanding Officer of No. 06 Kar Air Sqn NCC could able to produce:
One – Youth Exchange Program (YEP) Cadet
Three – Republic Day Camp (RDC) Cadets
Twelve – All India Vayu Sainik Camp (AIVSC) Cadets
Two – Mountaineering Cadets
Aims
To Provide
Character, Comradeship, Discipline, Leadership, Secular outlook, Spirit of Adventure and the ideals of selfless service amongst the youth of the country.
To Create
A human recourse of organized, trained and motivated youth, to provide leadership in all walks of life and always available for the service of the nation.
To Provide
A suitable environment to motivate the youth to take up a carrier in the armed forces.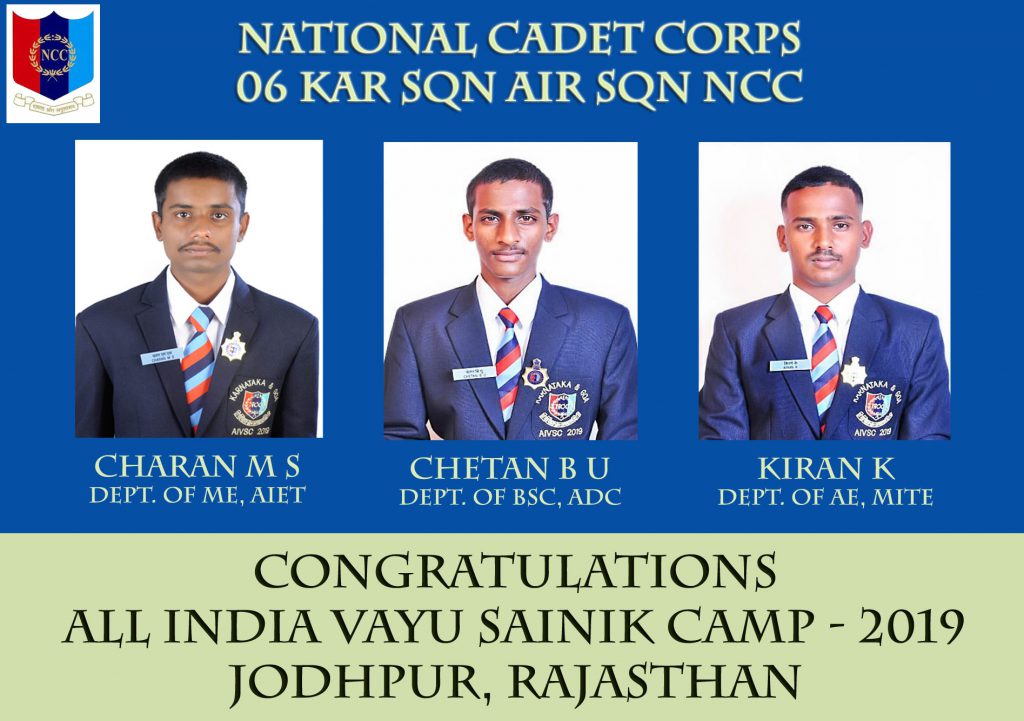 Objectives
Reach out to the maximum youth through various institutions.
Make NCC as an important part of the society.
Teach positive thinking and attitude to the youth.
Become a main source of National Integration by making NCC as one of the greatest and strong united forces of our nation irrespective of any caste, creed, religion or region.
Mould the youth of the entire country into a united, secular and disciplined citizens of the nation.
Provide an ideal platform for the youth to showcase their ability in nation building.
Instill the spirit of secularism and united India by organizing National Integration Camps all over the country.
Reach out to the youth of friendly foreign countries through Youth Exchange Programmes.
Incentives
For 'C' Certificate Holders. Specific vacancies in the Army, Air Force and Navy are allotted for NCC 'C' certificate holders. For officers there is no UPSC written exams. After application, the cadet is called directly for SSB interview, which he/she has to clear before final selection as per the merit list. The following vacancies are reserved by each service as officers :-

Army. 64 seats per year at IMA & 100 seats per year at OTA.
Navy. 06 seats per course through Naval SSB.
Air Force. 10% vacancies in all courses through Air Force SSB.

5-10% bonus marks for recruitment in ranks in Army, Navy and Air force.
Bonus marks for employment in CAPF/ Para Military Forces and Department of Telecommunication.
Can apply for gazetted post in CRPF if the cadet is a graduate.
Preference in State Services and also in private sectors.
Employment within NCC as Whole Time Lady Officer, Girl Cadet Instructor, Aero and Ship Modeling Instructor.
In Air Force Academy 5% seats are reserved for Girls candidates holding NCC 'C' certificate.
In OTA Chennai, seats are reserved for Girls candidates holding NCC 'C' certificate (Seats are notified every year).
INCENTIVES BY STATE GOVERNMENT
Police Service
Transport Department
Forest Department
Excise Department
INCENTIVES BY CADETS WELFARE SOCIETY AND GP HQ
CWS awards scholarship of Rs. 6000/- per cadet for 100 NCC cadets every year to academically brilient students.
Grant of Best Cadet Award of Rs. 3500/- and 2nd Best Cadet award of Rs. 2500/- at each Group level.
Advantages of Being a Cadet
Being part of 13 lakhs strong and the largest youth organisation in the world.
Being moulded into a disciplined and motivated youth.
Chance to take part in disaster relief tasks.
Opportunity to attend NCC camps like ATC, CATC, NIC, COC etc.
Wear the uniform and lead a life style akin to military.
Opportunity to visit foreign countries as part of YEP.
Opportunity to take part in social awareness programs.
Preference for joining armed forces and other forces.
Preference in higher studies.
Reports
2020-21
2019-20
2018-19
2017-18
2016-17
2015-16
2020-21
2019-20
2018-19
2017-18
2016-17
2015-16
Photos
Contact
Flying Officer Parveez Shariff B G.

Associate NCC Officer

06 KAR AIR SQN NCC

Ph: 91-7829200515

Email: ano.alvas.6kar.air.ncc@gmail.com
NCC Army Wing
Overview
Aims
Objectives
Benefits of NCC Certificates
Reports
Contact
Overview
Objective:
The National Cadet Corps (NCC) Army Wing aims to instill discipline, leadership qualities, and a sense of patriotism among the youth of our nation. It prepares them for a life of service to the country and fosters a spirit of camaraderie and unity.
Mission:
To groom the youth into responsible and disciplined citizens and provide them with opportunities to contribute effectively to the nation's defense and development.
Key Focus Areas:
Leadership Development

: Develop leadership skills among cadets through a structured training program that includes drills, command tasks, and leadership camps.

Physical Fitness:

Promote physical fitness and a healthy lifestyle through regular physical training sessions, sports, and adventure activities.

Character Building:

Inculcate values like discipline, selflessness, integrity, and patriotism among cadets.

Basic Military Training

: Provide cadets with basic military knowledge, including weapons handling, map reading, and field craft.

Community Service

: Encourage cadets to engage in community service and social outreach programs, fostering a sense of responsibility towards society.

Adventure and Outdoor Activities

: Offer opportunities for adventure activities like trekking, rock climbing, and camping to develop resilience and teamwork.

National Integration:

Promote unity in diversity by organizing cultural exchange programs and visits to different regions of the country.
Structure:
Cadet Units: The NCC Army Wing operates through various cadet units across the country, each under the command of a dedicated officer.
Cadet Ranks: Cadets progress through ranks such as Cadet, Junior Under Officer (JUO), Senior Under Officer (SUO), and more based on their performance and leadership abilities.
Training Camps: Regular training camps are conducted at the district, state, and national levels, providing advanced training and exposure to a wider set of skills.
Benefits:
Skill Development:

Cadets acquire essential life skills, leadership qualities, and discipline.

Career Opportunities:

NCC 'C' Certificate holders receive benefits in various government job selections and defense services.

Character Building

: Cadets develop a strong sense of character and values.

Citizenship:

Cadets become responsible and informed citizens, actively contributing to nation-building.
Achievements:
Over the years, the NCC Army Wing has produced numerous leaders and responsible citizens who have made significant contributions to the country. Many NCC cadets have excelled in various fields, including the armed forces, civil services, and politics.
Future Goals:
Continuously improve and modernize training methods and infrastructure, expand outreach to remote areas, and promote gender equality by encouraging the participation of more female cadets.
"The NCC Army Wing plays a crucial role in shaping the future of India by nurturing young leaders and responsible citizens committed to the nation's welfare and defense".
Aims
The 'Aims' of the NCC laid out in 1988 have stood the test of time and continue to meet the requirements expected of it in the current socio–economic scenario of the country. The NCC aims at developing character, comradeship, discipline, a secular outlook, the spirit of adventure and ideals of selfless service amongst young citizens. Further, it aims at creating a pool of organized, trained and motivated youth with leadership qualities in all walks of life, who will serve the Nation regardless of which career they choose. Needless to say, the NCC also provides an environment conducive to motivating young Indians to join the armed forces.
Objectives
To Create a Human Resource of Organized, Trained and Motivated Youth, To Provide Leadership in all Walks of life and be Always Available for the Service of the Nation.

To Provide a Suitable Environment to Motivate the Youth to Take Up a Career in the Armed Forces.

To Develop Character, Comradeship, Discipline, Leadership, Secular Outlook, Spirit of Adventure, and Ideals of Selfless Service amongst the Youth of the Country.
Benefits of NCC Certificates
NCC Certificate Benefits in Career
NCC cadets receive reservation benefits in various competitive exams.

Indian army soldier recruitment awards additional marks for different NCC certificates.

State government jobs give preference to candidates with a C certificate.

Paramilitary forces provide marks advantage for possessing an NCC certificate.

Having a C certificate grants a special entry in SSB interviews.

NCC cadets have the opportunity to be recruited as Civilian Gliding Instructors, Girl Cadet Instructors, or Whole Time Lady Officers.
NCC Certificate Benefits
| | | | |
| --- | --- | --- | --- |
| Army Trades  | 'A' certificate | 'B' certificate | 'C' certificate |
| General Duty(GD) | 05 marks | 10 marks  | Exempted from CEE (No Exam) |
| Soildier (Clk/Skt/Tech/NA) | 05 marks | 10 marks | 15 marks |
| Tradesman (Tdn) | 05 marks | 10 marks | Exempted from CEE (No Exam) |
NCC 'C' Certificate Benefits in Government Jobs
Recruitment for ORs, Sailors, and Airmen offers a bonus of 5 to 10 percent marks.

Para Military Forces grant a bonus of 2 to 10 marks during recruitment.

The Department of Telecommunication awards bonus marks in their recruitment process.

CRPF allows NCC cadets holding a 3rd division degree to be eligible for recruitment to gazetted posts.

Certain State Governments give preference to NCC C certificate holders for State Services.

In the industry, some employers prioritize NCC C certificate holders for security-related jobs.
NCC C Certificate Benefits in CDS
Upon clearing CDSE and subsequent SSB, cadets are entitled to reservation in various academies. NCC cadets holding a 'C' certificate are placed in a separate merit list. The reservation details for different academies are as follows:
Indian Military Academy (IMA): 13-15 vacancies reserved for 'C' Certificate (Army Wing) holders.

Indian Naval Academy (INA): 05-08 vacancies reserved for 'C' Certificate (Naval Wing) holders.
For Special Entry (Men and Women):
Officers Training Academy (OTA) Chennai: 50 vacancies reserved for 'C' certificate holders for NCC Special Entry (non-tech).

Air Force Academy (AFA) Hyderabad: 10% vacancies reserved for 'C' certificate Air Wing holders in all courses.
NCC C Certificate Benefits in Army
Candidates holding the 'C' certificate and who have participated in the Republic Day parade will be exempted from the Common Entrance Examination (CEE) for rect sol clk/skt, sol tech, and sol NA categories. Instead, they will be awarded 100% marks in lieu of the CEE.
In central paramilitary forces, NCC 'C' certificate holders will receive bonus marks equivalent to 5% of the maximum marks in the examination.
NCC C Certificate Benefits in UPSC
Having an NCC C Certificate might not directly benefit you in the UPSC civil services examination, but it can create a positive impression during the interview phase. This is because the training received in NCC sets you apart from others and showcases your dedication and character.
When it comes to the UPSC Combined Defence Services Examination (CDS), possessing a C Certificate allows you to directly appear for the SSB interview, which is advantageous. Additionally, clearing the CDSE provides reservation benefits for NCC cadets.
As evident from the article, earning an NCC certificate itself is a remarkable achievement. It serves as proof of your service, diligence, and the valuable life lessons you have learned. Beyond the intangible benefits, an NCC certificate significantly enhances your career prospects. If you have the opportunity to join NCC during your teenage years, it is highly recommended to seize it. And if you already possess the certificate, you are in an even better position.
Reports
Contact