Overview
Aims
Objectives
Incentives
Advantages of Being a Cadet
Reports
Contact
Overview
Alva's Institute Of Engineering & Technology (AIET) is a premier Engineering Institute of Alva's Education Foundation established in the year 2008. AIET is strategically located adjacent to Moodbidri -Mangalore National Highway, which is 24 Kms from Mangalore International Airport.
It has a lush green campus spread over 30 acres; a part of ALVA'S-SHOBHAVANA, 144 acres spread on a famous herbal garden with more than two thousand variety of herbal plants.
Air Wing NCC (Flt-B) at Alva's Institute of Engineering & Technology is affiliated to No. 06 Kar Air Sqn NCC, Mangalore in the year 2015. Flt – B have authorized strength of 100 cadets. 
The Flt-B headed by Fg Offr Parveez Shariff B G under the Commanding Officer of No. 06 Kar Air Sqn NCC could able to produce:
One – Youth Exchange Program (YEP) Cadet
Three – Republic Day Camp (RDC) Cadets
Twelve – All India Vayu Sainik Camp (AIVSC) Cadets
Two – Mountaineering Cadets
Aims
To Provide
Character, Comradeship, Discipline, Leadership, Secular outlook, Spirit of Adventure and the ideals of selfless service amongst the youth of the country.
To Create
A human recourse of organized, trained and motivated youth, to provide leadership in all walks of life and always available for the service of the nation.
To Provide
A suitable environment to motivate the youth to take up a carrier in the armed forces.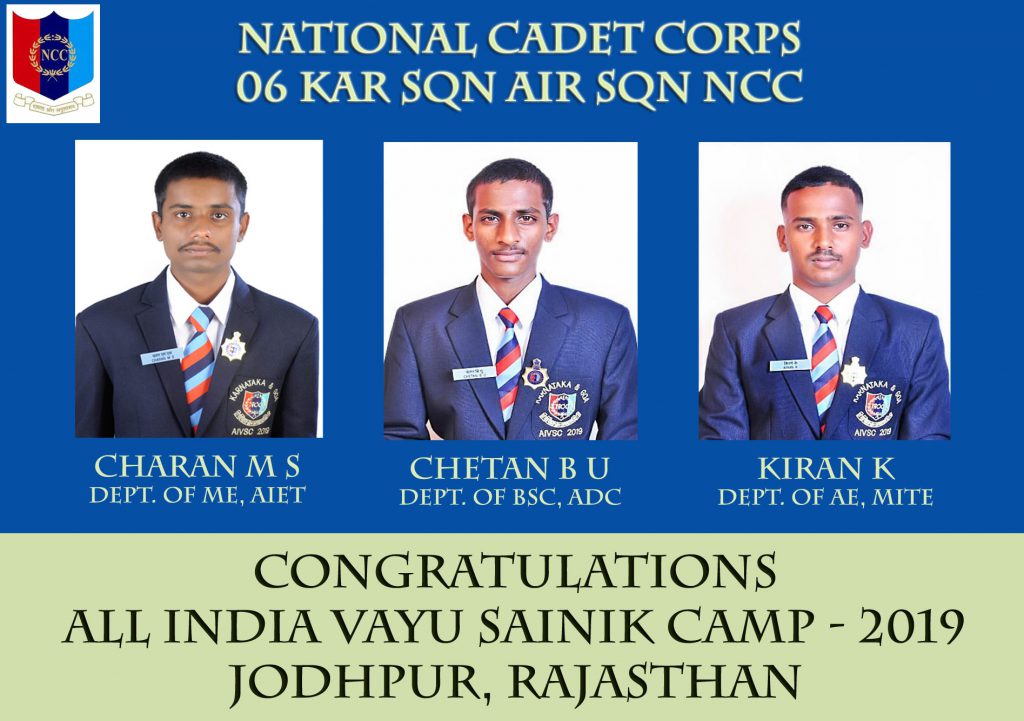 Objectives
Reach out to the maximum youth through various institutions.
Make NCC as an important part of the society.
Teach positive thinking and attitude to the youth.
Become a main source of National Integration by making NCC as one of the greatest and strong united forces of our nation irrespective of any caste, creed, religion or region.
Mould the youth of the entire country into a united, secular and disciplined citizens of the nation.
Provide an ideal platform for the youth to showcase their ability in nation building.
Instill the spirit of secularism and united India by organizing National Integration Camps all over the country.
Reach out to the youth of friendly foreign countries through Youth Exchange Programmes.
Incentives
For 'C' Certificate Holders. Specific vacancies in the Army, Air Force and Navy are allotted for NCC 'C' certificate holders. For officers there is no UPSC written exams. After application, the cadet is called directly for SSB interview, which he/she has to clear before final selection as per the merit list. The following vacancies are reserved by each service as officers :-

Army. 64 seats per year at IMA & 100 seats per year at OTA.
Navy. 06 seats per course through Naval SSB.
Air Force. 10% vacancies in all courses through Air Force SSB.

5-10% bonus marks for recruitment in ranks in Army, Navy and Air force.
Bonus marks for employment in CAPF/ Para Military Forces and Department of Telecommunication.
Can apply for gazetted post in CRPF if the cadet is a graduate.
Preference in State Services and also in private sectors.
Employment within NCC as Whole Time Lady Officer, Girl Cadet Instructor, Aero and Ship Modeling Instructor.
In Air Force Academy 5% seats are reserved for Girls candidates holding NCC 'C' certificate.
In OTA Chennai, seats are reserved for Girls candidates holding NCC 'C' certificate (Seats are notified every year).
INCENTIVES BY STATE GOVERNMENT
Police Service
Transport Department
Forest Department
Excise Department
INCENTIVES BY CADETS WELFARE SOCIETY AND GP HQ
CWS awards scholarship of Rs. 6000/- per cadet for 100 NCC cadets every year to academically brilient students.
Grant of Best Cadet Award of Rs. 3500/- and 2nd Best Cadet award of Rs. 2500/- at each Group level.
Advantages of Being a Cadet
Being part of 13 lakhs strong and the largest youth organisation in the world.
Being moulded into a disciplined and motivated youth.
Chance to take part in disaster relief tasks.
Opportunity to attend NCC camps like ATC, CATC, NIC, COC etc.
Wear the uniform and lead a life style akin to military.
Opportunity to visit foreign countries as part of YEP.
Opportunity to take part in social awareness programs.
Preference for joining armed forces and other forces.
Preference in higher studies.
Reports
2020-21
2019-20
2018-19
2017-18
2016-17
2015-16
2020-21
2019-20
2018-19
2017-18
2016-17
2015-16
Contact
Flying Officer Parveez Shariff B G.

Associate NCC Officer

06 KAR AIR SQN NCC

Ph: 91-7829200515

Email: ano.alvas.6kar.air.ncc@gmail.com