COMPREHENSIVE HOLISTIC GROWTH ECOSYSTEM
The prime focus of the institution is to ensure the students get transformed into technically sound engineers with additional qualities of skills, human values, society & environmental concern. The institution strongly believes in holistic development of an individual as its thrust area of interest and in this regard is committed to put highest efforts and intends to stand distinct in the society. Further, the institution makes sure to provide all necessary infrastructure and conducive environment in the campus to support its priority. The institute ensures that right from beginning of first year to till the end of the final year; the students undergo multitude activities along with the regular University curriculum, which will help them for comprehensive growth.
The institution meticulously plans for imparting knowledge, skill, values etc. under three major categories – Technical Fundamentals (to enhance knowledge base), Skill Sets (to enhance placement opportunities and quality of life) and Human values (to enhance social & environmental concern).
The impact
Over the past years, the various initiatives of the institute have played vital role in shaping the students into responsible and socially sensible engineers. It is quite evident through its reflection in the following-
Good academic results.

Healthy Placements records over the last few years.

Paper presentation by students at conferences and publications in journals.

Successful internships in reputed industries.

Higher studies in Universities abroad.

Student patents.

Student entrepreneurs.

Championships in Sports and Cultural activities.

Participation of NCC cadet in Republic Day parade.

University (VTU) ranks being secured.

Accreditation of Department of Computer Science & Engineering and Department of Electronics & Communication Engineering by NBA for the duration 2019-2020 to 2021-2022.
Thus, the institution's efforts are supporting the student community for their comprehensive holistic growth and created good impact and stand distinct in the society.
PLACEMENT STATISTICS
| | | | | | |
| --- | --- | --- | --- | --- | --- |
| Year | 2018-19 | 2019-20 | 2020-21 | 2021-22 | 2022-23 |
| No of Companies visited | 197 | 184 | 163 | 169 | 160 |
| No of students placed | 543 | 406 | 314 | 250 | 312 |
| Total Offers | 580 | 479 | 367 | 259 | 333 |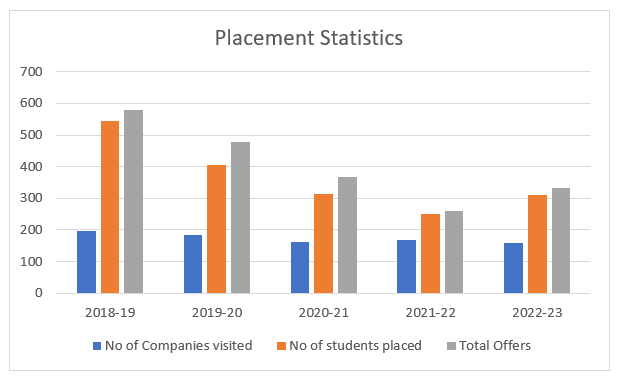 ---
VTU RESULTS STATISTICS
| | | | |
| --- | --- | --- | --- |
| Academic Year | Number of Students Appeared | Number of Students passed | Pass Percentage |
| 2022-23 | 493 | 483 | 97.97 |
| 2021-22 | 378 | 370 | 97.88 |
| 2020-21 | 553 | 526 | 95.11 |
| 2019-20 | 582 | 566 | 97.25 |
| 2018-19 | 551 | 545 | 98.92 |
| 2017-18 | 631 | 596 | 94.45 |
| 2016-17 | 661 | 611 | 92.44 |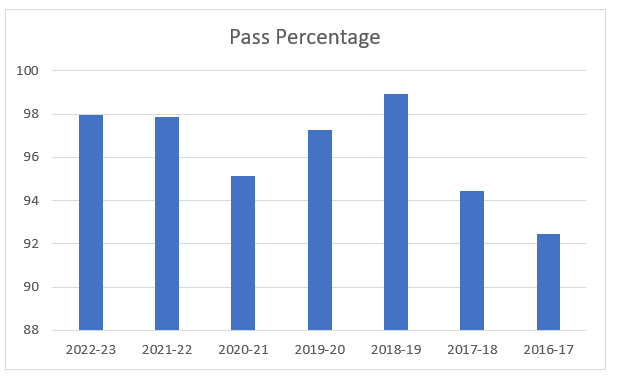 ---
INTERNSHIP COMPANY STATISTICS
| | | | | | | | |
| --- | --- | --- | --- | --- | --- | --- | --- |
| | 2016-17 | 2017-18 | 2018-19 | 2019-20 | 2020-21 | 2021-22 | 2022-23 |
| Civil | 131 | 69 | 26 | 31 | 32 | 13 | 18 |
| CSE | 17 | 23 | 20 | 25 | 25 | 29 | 23 |
| ECE | 34 | 22 | 36 | 31 | 13 | 13 | 2 |
| ISE | 9 | 7 | 14 | 23 | 12 | 18 | 4 |
| ME | NA | 21 | 37 | 32 | 36 | 20 | 11 |
| MBA | 81 | 22 | 108 | 76 | 83 | 84 | 117 |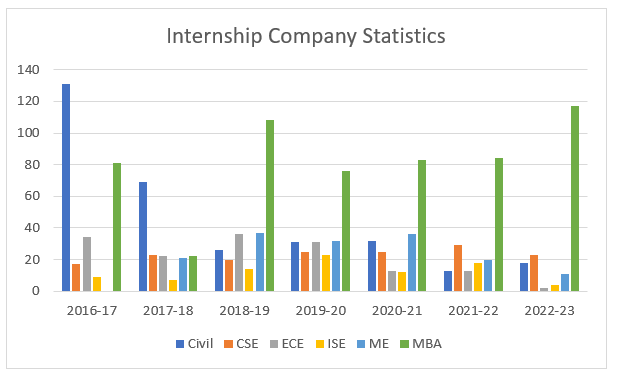 ---
INTERNSHIP- STUDENTS STATISTICS
| | | | | | | | |
| --- | --- | --- | --- | --- | --- | --- | --- |
| | 2016-17 | 2017-18 | 2018-19 | 2019-20 | 2020-21 | 2021-22 | 2022-23 |
| Civil | 162 | 143 | 103 | 92 | 103 | 62 | 61 |
| CSE | 31 | 67 | 93 | 131 | 122 | 104 | 114 |
| ECE | 127 | 123 | 143 | 137 | 55 | 54 | 97 |
| ISE | 38 | 29 | 66 | 85 | 57 | 28 | 66 |
| ME | 172 | 132 | 151 | 130 | 106 | 52 | 46 |
| MBA | 81 | 22 | 108 | 76 | 83 | 84 | 117 |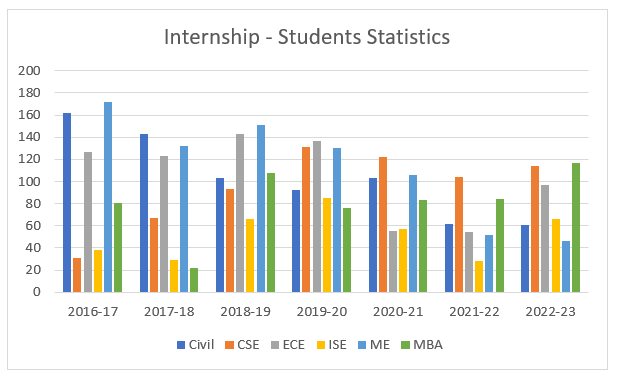 ---
INDUSTRIAL VISIT- STATISTICS
| | | | | | | | |
| --- | --- | --- | --- | --- | --- | --- | --- |
|   | 2016-17 | 2017-18 | 2018-19 | 2019-20 | 2020-21 | 2021-22 | 2022-23 |
| Civil | 3 | 3 | 4 | 2 | 2 | 1 | 3 |
| CSE | 3 | 3 | 3 | 0 | 0 | 2 | 2 |
| ECE | 3 | 4 | 3 | 0 | 0 | 0 | 3 |
| ISE | 1 | 3 | 3 | 0 | 0 | 1 | 3 |
| ME | 2 | 6 | 4 | 3 | 2 | 2 | 3 |
| MBA | 5 | 5 | 6 | 10 | 1 | 7 | 14 |