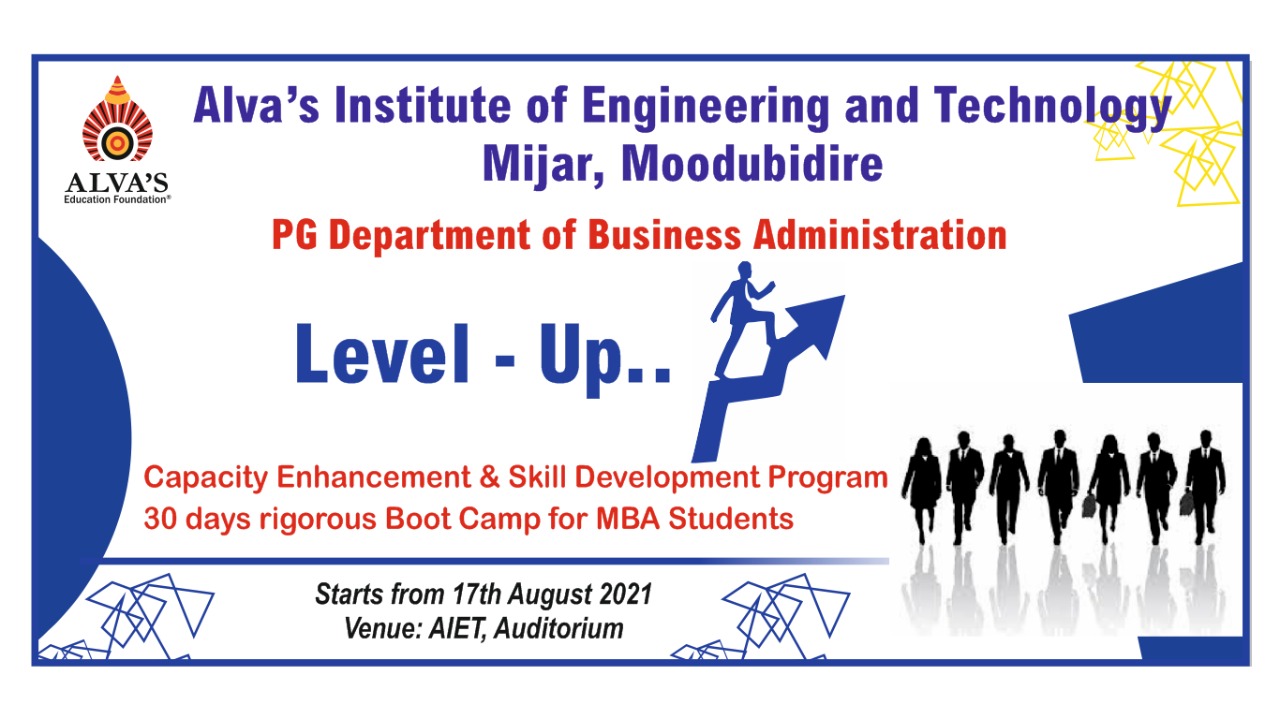 Resource person: Mr. Vivek Alva
The PG department of Business Administration AIET, Mijar, organised a 30 days of rigorous boot camp for MBA students focused on Capacity enhancement and skill development program. It was inaugurated today on 17 August 2021 at 10.00 AM in MBA Seminar hall, by our Managing Trustee Mr. Vivek Alva and our beloved Principal Mr. Peter Fernandes and Ms. Priya Sequeira, HOD.
In the inaugural function, our beloved principal stressed the fact that practice makes man perfect. He explained the same using the example of Neeraj Chopra, Gold Medalist, at Tokyo Olympics 2020. He motivated us through his words of wisdom.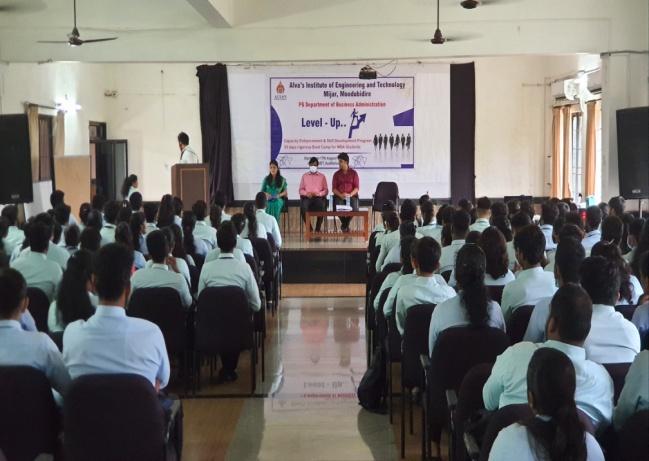 Our Managing Trustee Mr. Vivek Alva, who spoke about why training is important, also emphasised on how much of a difference it will make to our career and life. He spoke about how confidence and leadership is a must and should quality of a good manager and motivated us to be a better leader and team player. He stressed that all seniors and juniors should be co-operative and actively participate in the boot camp to make it a successful one.
Session 1: Mr.Dheeraj Shetty Entrepreneur at 11:00am to 12:30pm
Mr. Dheeraj Shetty's focal point was entrepreneurial and employment skills. He highlighted communication like listening, empathising, and adapting language and how one could develop communication, problem solving and develop collaboration. He also emphasised on Time Management organising and technology.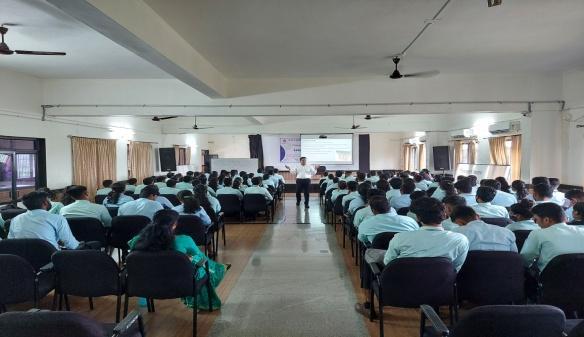 He helped us to have a clear thought about choosing our specialisation by explaining to us about the scope of each and every stream. The session was really interesting
Session 2: Mr. Prasheel Shetty Entrepreneur at 3:00pm.
The second session started in the afternoon at 3.00 in the afternoon. Mr. Prasheel Shetty, the Alumni of AIET, shared his journey from a mechanical engineer to MBA graduate to an Entrepreneur. His life journey inspired us a lot. He shared how he started his own company that provides marketing services and how he got that idea from working at various different jobs and also working two jobs at a time. His story motivated us to work harder in order to achieve your goal.
Session 3: 'Get to know me' Activity at 4:30pm.
The divided groups were given 3 themes, i.e., Unity in Diversity, Global Warming, National Integrity and had to also choose a Captain and Vice Captain for their team and give the reason for the same. All the teams actively participated in the activity.
Life Skill training on 18th August 2021
Date: 18th August 2021
Topic: Life Skill Training
Resource Person: Mr. Ajith and Mrs. Renita D'Souza
On 18th Activity 2021 Mr. Ajith and Mrs. Renita D'Souza took over the boot camp training Programme for a day. The session was interesting and interactive as various activities were conducted to teach the students management concepts.
The activities:
The first activity was regarding how quick students grasp things and actively coordinated with the team For which they divided whole groups into 4 teams and asked them to stand in the order of A to Z, height wise, month of birthday, birthday year, shoe size etc

Activity on empathy: To understand how students need to understand a situation in their perspective.

Activity was related to Teamwork where students were asked to balance the pool. This activity made us realise that without teamwork we cannot balance the given task.

Next activity was related to team building where we are asked to pass the ring without touching the ring to the floor. Here we came to know how to team work together, Time management and achieving the result.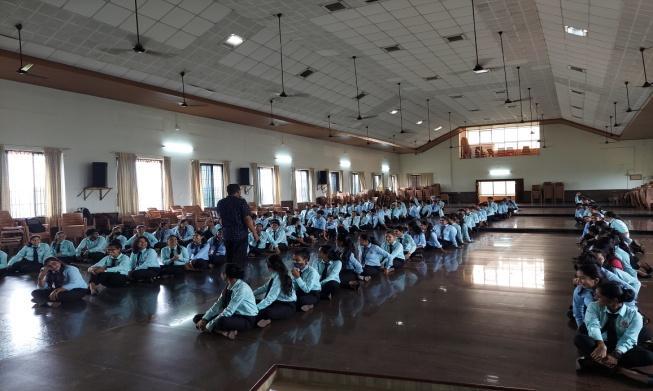 Overall each and every activity was a learning lesson for us where students came to know about the importance of team leaders, leadership, creativity and critical thinking, self awareness, coordination, empathetic and many more.
Date: 19

th

August 2021
Topic: Soft skill
Resource Person: Mr. Ramani Venkat
Two day session on soft skill was conducted by Mr. Ramani Venkat on
Communication

Group Discussion

Facing Interviews and Mock interviews
The importance of communication was explained through group discussion and through role play activities. The various case studies were analysed in order to understand the Role the MBA students are going to face in the industry.
The Group Discussion was focused on Knowledge Testing, Behavioural Testing, Abstract Testing and case study. Sir conducted Group Discussion on topics:
How can we improve sports in India and get more medals in the Olympics?

Love Marriage Vs Arrange Marriage
By taking this topic sir made us understand how we as MBA students can think in relevant to HR and Marketing and in a broader way. He also discussed how GD will be conducted in an interview and how candidates are evaluated during Group Discussion.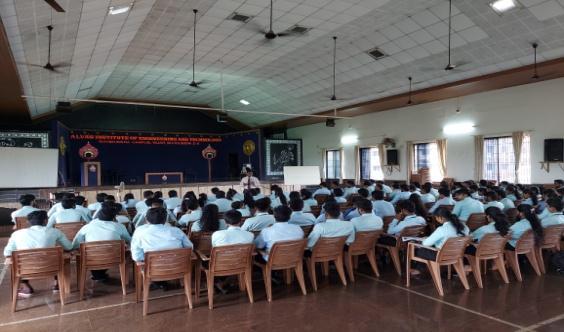 Resource person conducted an effective session to understand how to face interviews through various mock interviews. Students were put into practice and corrections were made based on their performance. This helped the students to gain real time experience. The various activities were conducted to teach the management concept to students.
Date: 21

st

23

rd

&23

rd

August 2021
Topic: International tax and technology course
Resource Person: Mr.Bhanuprakash, Ms. Sushma and Mrs. Supriya
Three days session on international tax and technology course was conducted by Mr. Bhanuprakash, Ms. Sushma & Mrs. Supriya
In this session the basic knowledge of US Taxation was given, how the tax is calculated on individual income & partnership tax, tax identification number and its types, calculation of gross income with practical problems etc.
The objective of this course was to crack the interview of various US tax based companies like EY, PWC, Deloitte, IBM etc.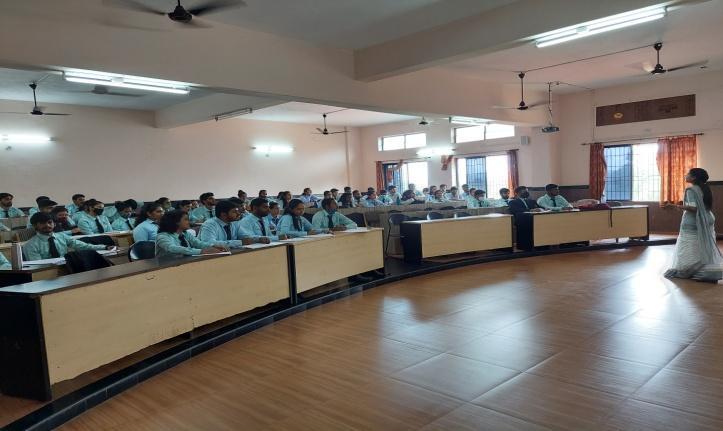 Date: 22

nd

August 2021
Topic: Fundamentals of Accounting with practical activities
Resource person: Anantha Shayana
Mr.Anantha Shayana is faculty of Alva's degree college, had come to enlighten the students of MBA Department about the Fundamentals of Accounting with practical activities like creating their own questions and with some accounting activities.
He taught students about different basic questions asked in interviews about accounts and to answer that with easy terms.
He grabbed the attention of students by giving them the case study and asked them to analyse the case.
Date: 24

th

– 29

th

August 2021
Topic: Aptitude tricks and English Communication
Resource person: Mr. Harshith & Mr. Shivakumar
Mr. Harshith and Mr. Shiva who are associated with "10 Seconds learning" had joined with MBA Students of AIET, to teach Aptitude tricks and English Communication. The students were divided into two groups and classes were conducted simultaneously on Verbal aptitude and logical aptitude separately.
Mr. Shiva who engaged in English communication class taught students about synonyms, Antonyms, sentence completion and other topics; he made his class interesting for students by interacting with each and every student. Knowledge on the topic was measured by conducting assessment about each session every evening through the 10 seconds learning website.
Date: 30

August 2021 to 1

st

September 2021
Topic: Basic accounts, Taxes, Indian taxation system and GST
Resource person: Mr. Naveen Chandra T, Mr. Rodney Pinto, CA Dhanush, CA Laxmi and Joel D'Souza, Auditors, CA Nithin Shetty and Co.
On 30th August 2021 the session was engaged by Mr. Naveen Chandra T & Mr. Rodney Pinto on basic accounts and how to prepare a question and also find solution to it. Students were given a task to prepare a question for balance sheet and ledger.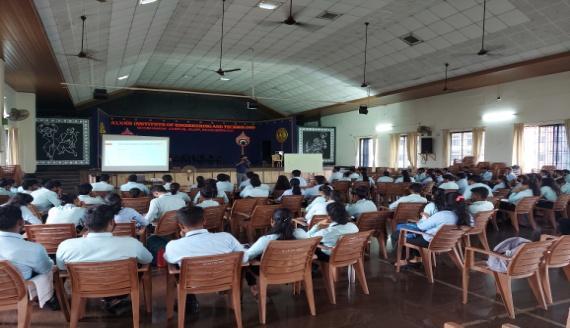 CA Dhanush and Joel D'Souza took part in the session on 31st August 2021. They explained about taxes. They asked quiz questions which students could answer using the internet. To make the day interesting and keep students enthusiastic the questions had a score which would add up to group score.
On 1st September 2021 CA Laxmi took the session on Indian taxation system and GST.
The session helped the student to get Practical knowledge on Indian taxation, Auditing and GST filing.
INDUSTRIAL VISIT on 2nd September 2021
Date: 2nd September 2021
Topic: Industrial Visit
Resource person: Mr. Prakash Rao Kalbavi, Mr. Ajith, Mr. Ronald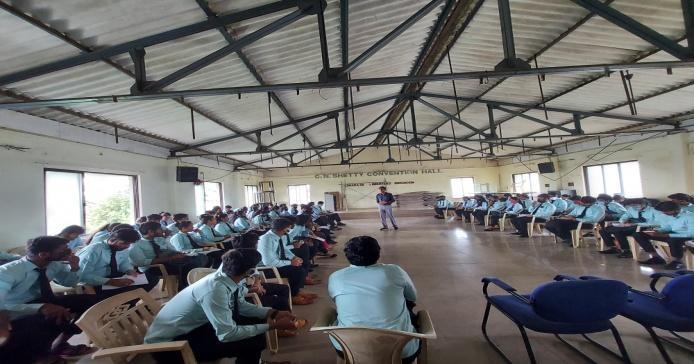 The students were taken to three different industries : Ajith enterprise, Kalbhavi cashew industry and Aquatic Biosystem fish ornamental farming.
The owner of Ajith enterprise, Mr. Ajith spoke to the students regarding his business and explained that the projects hit under took over from Indian oil, MRPL and HPCL. He takes projects from both private and public sectors.
Mr. Prakash Rao Kalbavi the owner of cashew industry, he explained students how the processing of cashew starts in detail, in the first step the process starts by steam treating the raw cashew and later it goes through other levels.
Mr. Ronald the owner of Aquatic bio system in his interaction with students he told about the story of his entrepreneurship journey on ornamental farming, and explained how the breeding of ornamental fishes takes place.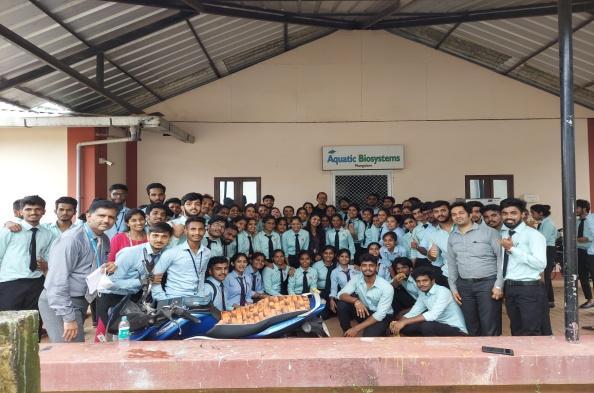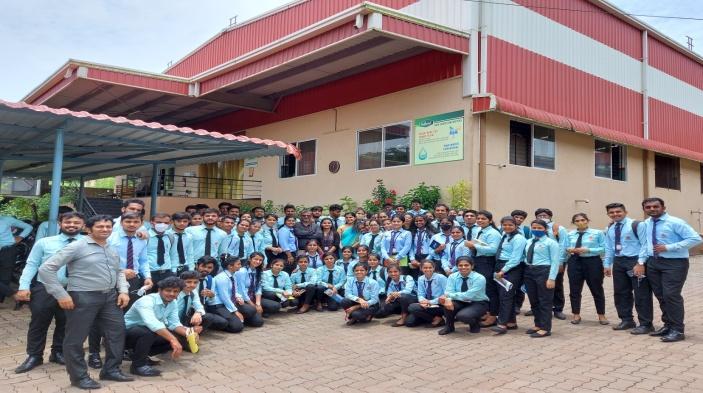 Date: 3

rd

September 2021
Topic: Financial Markets and Derivatives.
Resource person: Arun D'Souza
Mr. Arun D'Souza enlightened the students of MBA Department about the Financial Markets and Derivatives.
He took sessions on financial securities that are traded in the practical world, types of financial markets, such as the difference between money market and capital market & he organised and judged the activity which was on Investment and trade.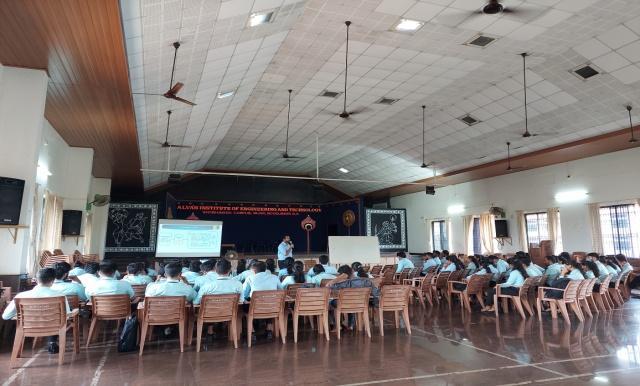 Date: 4

th

& 5

th

September 2021
Topic: Digital Marketing
Resource person: Mr. Poojesh. G
He is the Founder & CEO Digital Tenali started in the year 2018. He took sessions on Colour importance in logo development and psychological aspects of it, Viral Marketing, Google Ads, Social Media targeting, and Marketing Funnel.
He gave an activity of creating logos on choosing their own industry on using various tools and analysing Website Performance Tests. Where students involved themselves and enjoyed the activity.
He also provided the certificates from his own company for all the students involved in his session.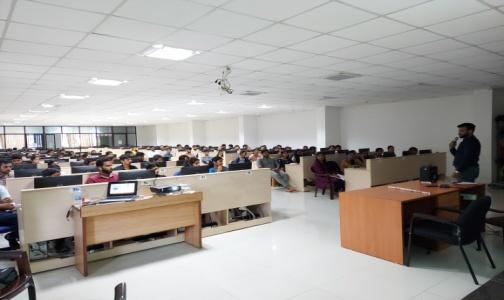 Date: 6

th

& 7

th

September 2021
Topic: Human behaviour
Resource person: Ms. Kannan Thandi
Ms. Kannan Thandi is a soft skill trainer who gave a session on Human behaviour like types of smile, body language, personal grooming, and types of hand shake
She called up individuals and made them speak about themselves. She also conducted many activities for students to boost them up and made them involved in the activity and all the activities were on the behaviour of individual.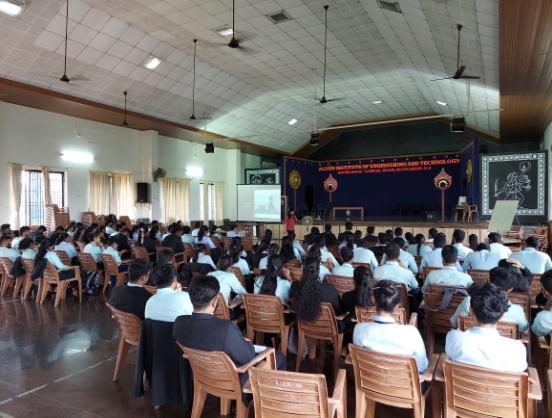 Date: 8

th

& 9

th

September 2021
Topic: Accounting Concepts
Resource person: Dr. Kushalappa
Dr. Kushalappa trained students in basics of financial accounting requirements, including financial statement preparation. In this session, he explained about bookkeeping and accounting. The purpose and the functions of accounting, the difference between various accounting and financial accounting, subsidiary books.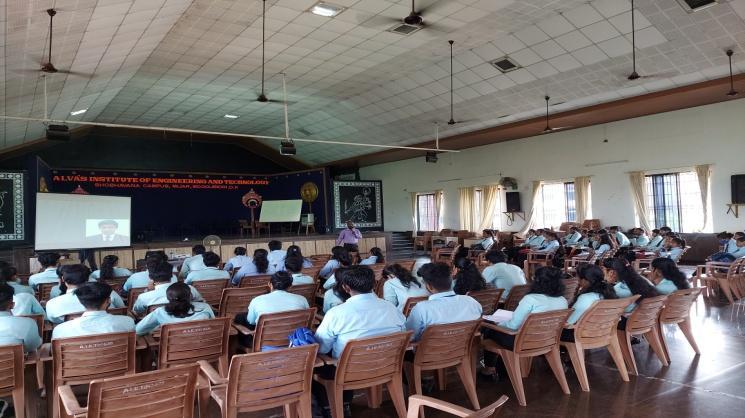 He gave more knowledge about capital budgeting, Investment criteria, the capital ratio weighted average cost of capital – Cost equity and cost of Debt.
The functions of financial management are Investment Decision, financing decision, Dividend Decision Techniques of financial management were taught to the students in detail.
Sports day for the students on 10th September 2021
Date: 10th September 2021
Topic: Sports day
Resource person: Mr. Dilip Shetty
The sports day was inaugurated by Mr. Dilip Shetty (PD), Mr. Sushanth Lobo and Mrs. Priya Sequeira. Different games were conducted for students like Volleyball, Throw ball, Dodgeball, tug of war, Shot-put & Lemon and Spoon race (for girls).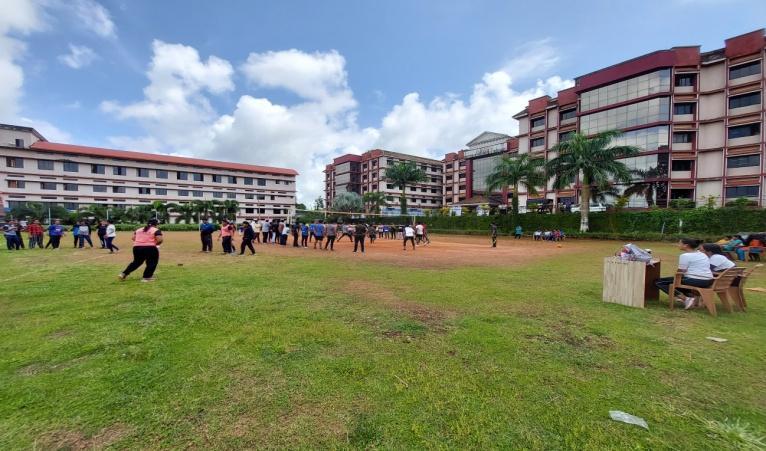 On this day, most of the students involved themselves with sportsman spirit. To make students more enthusiastic department provided Ice creams for all the students
Date: 11

th

September 2021 – Valedictory Function
Topic: Group Discussion
Resource person: CA. Umesh Rao & Ms. Shavina Soans
It was the last day of the level up Boot camp. Mr. Vivek Alva conducted a GD for all the students who attended the bootcamp, to measure their growth compared to the first day.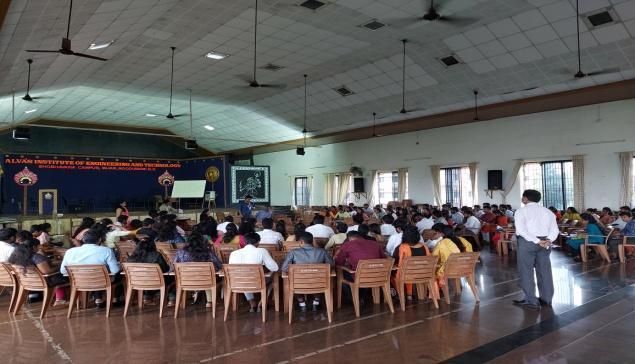 The topics were given priory and it was an overnight task for students. All the students participated with enthusiasm and were judged by CA Umesh Rao & Shavina Soans.
Valedictory programme for level up boot camp
The resource person Dr. Ronald Sequeira talked about how Students should remain focused on what they do. He said that we should assign ourselves 5 minutes for self-assessment. They emphasised on the importance of self-development.
The boot camp did not only help the students to get skills which will help them to face the interview, but also to face life.
And thus promising to continue the activities in coming days, the boot camp of 25 days ended successfully.