A sequel of the most awaited event "Varishta Kreedha Koota" which is a collection of traditional games of different parts of India which are vanishing from the land are recalled once again by Alva's Education Foundation (AEF) students which were organized by the Department of Mechanical Engineering Forum team "Mech Meastroes" at Alva's Institute of Engineering Campus on 8th October of 2017.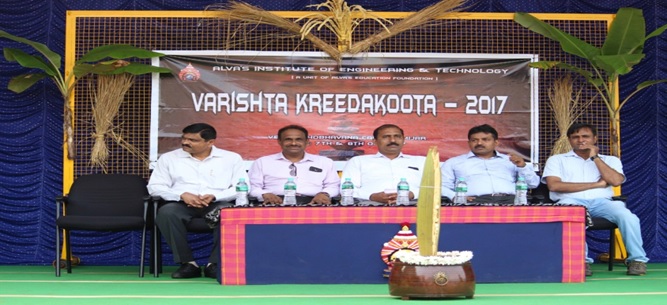 Entrepreneur Mr. Deviprasad Shetty, who inaugurated the event, called upon the young students to focus on preserving the ancient culture of the country by continuing playing rural sports and games. Modern games like cricket and football should not take away the shine of the rural games, he added.
During the inauguration function, Dr. Peter Fernandes, Principal AIET, Dr. Kurian, Principal, Alva's Degree College, Prof. K.V. Suresh, HOD Mech Engineering, Dr. Satyanarayan Forum coordinator and Nickky Harries Students president were present.
The day has provided that, Victory is not the sole intention, but the spirit of playing together.
From all three academic year the fund collected are as follows,
| | |
| --- | --- |
| Academic Year | Fund Collected |
| 2015-16 | 8546/- |
| 2016-17 | 2300/- |
| 2017-18 | 12813/- |
| Total | 23659/- |
The collected amount is donated to Mr. Bhimaraya V K, First year, Computer Science and Engineering Student on 23-11-2017 who is suffering from cancer.